I heard from Noel a few weeks ago and he gave me permission to publish what's going on in his life so all you guys who remember him can read about it. Here goes:
After sending a message to Noel letting him know Goodfellas won the tourney in the mini-season and sending him a pic of the current team, Noel responded:
I miss it badly, Hanna could have even helped us. We did like the Pearland boys did in the World Series. I took my 12U girls fast pitch team to the girls 12U Fast Pitch World Series and we took 3rd place. Hanna pitched 7 & 1/2 of the 8 games. She is throwing at 56-58 mph and only 11 years old, we are so proud of her! At team meeting I resigned as the KC Jazz Head Coach, a great note to end on. She had too many 14U teams wanting her to pitch, so I let her try out for several and let her take her choice of club teams since they all wanted her. What an experience! Now Beth & I can sit back and watch as she has 6 fall tournaments, then break for December & January, then start indoor tournaments in February. They are awesome tournaments due to cold weather. Man that's a great picture, I can't believe I know almost the whole team! WOW! Congratulations and tell them all hello and congrats, and pass on the news about Hanna winning and pitching 8 games in the Girls Fast Pitch 12 year olds World Series for 3rd place. Love and miss all, Baaaaaa Baaaaaa GOAT
Then he sent some pictures:
Hanna and proud Coach Dad with the ASA trophy award. Her medal around her neck was awarded to her for a no hitter in her 3rd game of the World Series.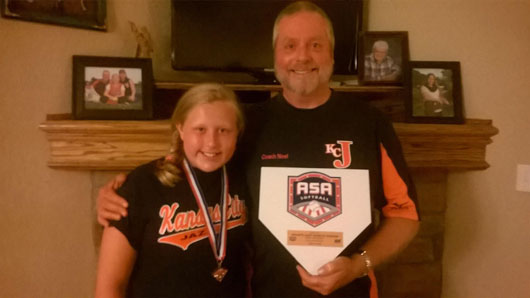 Another medal at a tournament a couple weeks at tournament before the World Series. 15 batters 14 strikeouts, no hitter, she made the KC Jazz club softball team proud brother.

A few weeks later he sent another update:
We are in our 1st 14U tournament and "SPUNKY" Hanna Hull just pitched her first game, she pitched a 5-0 shut out against Topeka Kansas Mustangs. Had to share with you brother, an 11 year old going up against 12-13- 14- 15 year olds! Proud dad brother!